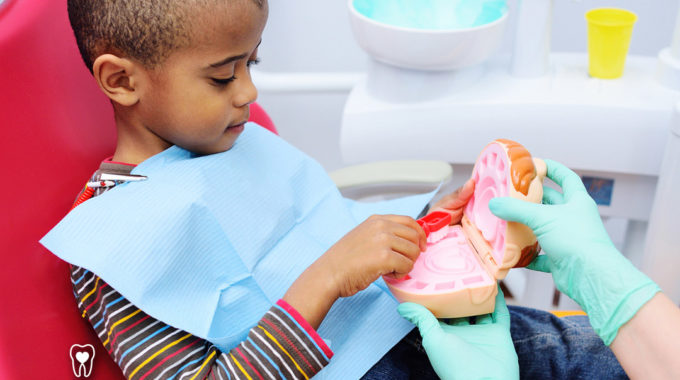 National Children's Dental Health Month!
Pleasant St Dental in East Longmeadow, MA is committed to a successful start to kids' oral hygiene. Our dentists provide explanations in words that children understand and show the child what we plan to do in order to ease anxiety. In order to optimize comfort, children are even encouraged to bring a "friend" — whether it is a favorite toy, stuffed animal, or iPad — for moral support!
Cavities are one of the most chronic childhood diseases in the U.S. In fact, About 1 of 5 (20%) children aged 5 to 11 years have at least one untreated decayed tooth.1 Luckily, cavities are preventable when the correct oral hygiene methods are implemented. According to the CDC, there are a number of things that parents and caregivers can do to improve their children's dental health.
What Parents and Caregivers Can Do
For Babies
Wipe gums twice a day with a soft, clean cloth in the morning after the first feeding and right before bed to wipe away bacteria and sugars that can cause cavities.
When teeth come in, start brushing twice a day with a soft, small‑bristled toothbrush and plain water.
Visit the dentist by your baby's first birthday to spot signs of problems early.
Talk to your dentist or doctor about putting fluoride varnish on your child's teeth as soon as the first tooth appears.
For Children
Brush their teeth twice a day with fluoride toothpaste.
Ask your child's dentist to apply dental sealants when appropriate.
Pregnant Women
Did you know that when you're pregnant, you may be more prone to gum disease and cavities? This, in turn, can affect your baby's health. Follow these 3 steps to protect your teeth:
See a dentist (it's safe!) before you deliver
Brush twice a day
Floss daily
At Pleasant St Dental, our dentists understand that going to the dentist can be scary for kids. One of our greatest advancements to alleviate this fear is Laser Dentistry – virtually no shots, no drilling, and no pain! We also offer child-related coloring books, games, and books to create a welcome environment for your kids right from the start. Visit our office in East Longmeadow, MA or Request an Appointment online today.
---
Dye BA, Xianfen L, Beltrán-Aguilar ED. Selected Oral Health Indicators in the United States 2005–2008. NCHS Data Brief, no. 96. Hyattsville, MD: National Center for Health Statistics, Centers for Disease Control and Prevention; 2012.
https://www.ada.org/en/public-programs/advocating-for-the-public/fluoride-and-fluoridation